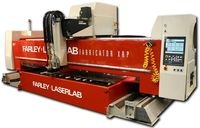 FarleyLaserlab Fabricator XRP




COMPLETE PLATE PROCESSING MACHINE WITH PLASMA CUTTING, HIGH SPEED DRILLING AND MILLING.

The Fabricator XRP is a next generation complete plate processing system combining the very best cutting, marking, drilling and milling technologies. The innovative sub-axes drilling capability provides the drillhead with a range of movement independent of the main machine X & Y axes, creating a 250mm x 250mm clamped work envelope for continuous, uninterrupted machining. The XRP is currently operational in Australia and the U.S.A. producing complex parts, to finished quality, straight off the table, in one set-up, with one operator. This flexible, user-friendly, duel beam, multi-carriage, multi-torch machine is for the big industry players looking for a fully automated and integrated system that eliminates downtime between processes, is simple enough for one operator to setup and run and provides an impressive return on investment. While achieving the very best cutting performance from Hypertherm's new HPR400XD HyDefinition plasma systems (capable of piercing 50mm MS), it is the innovative sub-axes drilling capability that sets a new industry standard.